Dear Neighbors,
I hope you're staying warm! Earlier this month on January 8, I was sworn in to represent our community of Plymouth at the Capitol. It's been such a humbling experience and I'm constantly learning as we enter into our fourth week of work.
I'm pleased to share I'm serving on the following committees: Agriculture and Food Finance and Policy; Higher Education Finance and Policy; Long-Term Care; and State Government Finance.
Committee Work & Legislation
Throughout last week, House committees held public hearings, which were largely informational presentations by state agencies to get new legislators up to speed on budget and policy issues (and provide updates for returning legislators).
In the Ag Committee, we heard from Minnesotans experiencing farm stress due to financial difficulties and low commodity prices. Theresia Gillie shared her own tragic story of losing her husband to suicide in 2017. We discussed legislation that would deliver additional mental health resources to farmers struggling. The proposed bill also increases the funding for statewide rural mental health counseling. You can read more about the proposal and the committee hearing here.
I've co-sponsored a handful of bills important to our community. One of the bills would prohibit prescription drug price gouging in Minnesota. The legislation would also allow the state Attorney General to obtain drug pricing information and take action against drug manufacturers and wholesalers if necessary.
All Minnesotans deserve access to quality and affordable prescription medication; and they deserve to have another, less expensive option on the table. I'll keep you posted as the legislation moves forward in the House.
MLC Meeting
Last week I attended the Municipal Legislative Commission regional meeting in Plymouth. The MLC is an association of 17 suburban communities sharing similar characteristics and the common goal to advance sound, fiscally responsible polices and to enhance our quality of life.
It was great to see Plymouth Mayor Wosje, City Manager Callister, Councilmember Johnson and of course, to be joined by Rep. Acomb. Their leadership for our community is astounding and I'm grateful for their work.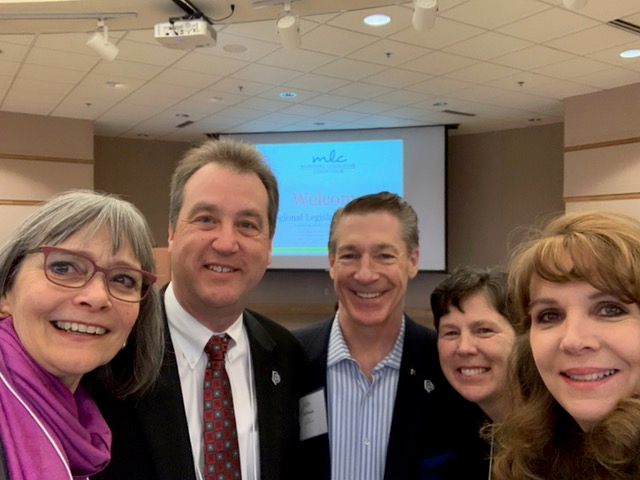 Town Hall Meeting
Rep. Acomb and I are hosting a town hall meeting to gather community input regarding the 2019 session. Any questions, comments or feedback in how we can accomplish the best outcomes for our state are always appreciated, especially when we have the opportunity to meet in person.
Below are the details:
Saturday, February 2 at 10:00-11:00 a.m. at Plymouth City Hall, 3400 Plymouth Blvd, Plymouth, MN 55447
 Please never hesitate to contact me with your comments, questions and concerns. I appreciate gaining your input! You can reach me at 651-296-5511 or by email at rep.ginny.klevorn@house.mn.
It's an honor to represent you and Plymouth in St. Paul.
Sincerely,
Ginny Klevorn
State Representative