Dear Friends,
 
I hope everyone is staying warm. You can find a list of warming stations in Minneapolis and other warming options here.
 
The 91st Minnesota Legislature is full swing as we finish January, and there are several things I wanted to update you on.
 
 
Committee Assignments
 
For the 2019-2020 biennium I am honored to serve as the Chair of the House Subcommittee on Elections. This committee will meet every other week, having had our first meeting on Wednesday, January 16. The other committees I serve on include:
Capital Investment
Commerce
Public Safety and Criminal Justice Reform
 You can find out more about these and other House committees here.
 
 
Town Hall Update
 
Due to the severe weather conditions, Rep. Lee, Sen. Champion, and I have decided to cancel tonight's Town Hall. The meeting will be rescheduled, and I'll be sure to keep you posted when we find a new date.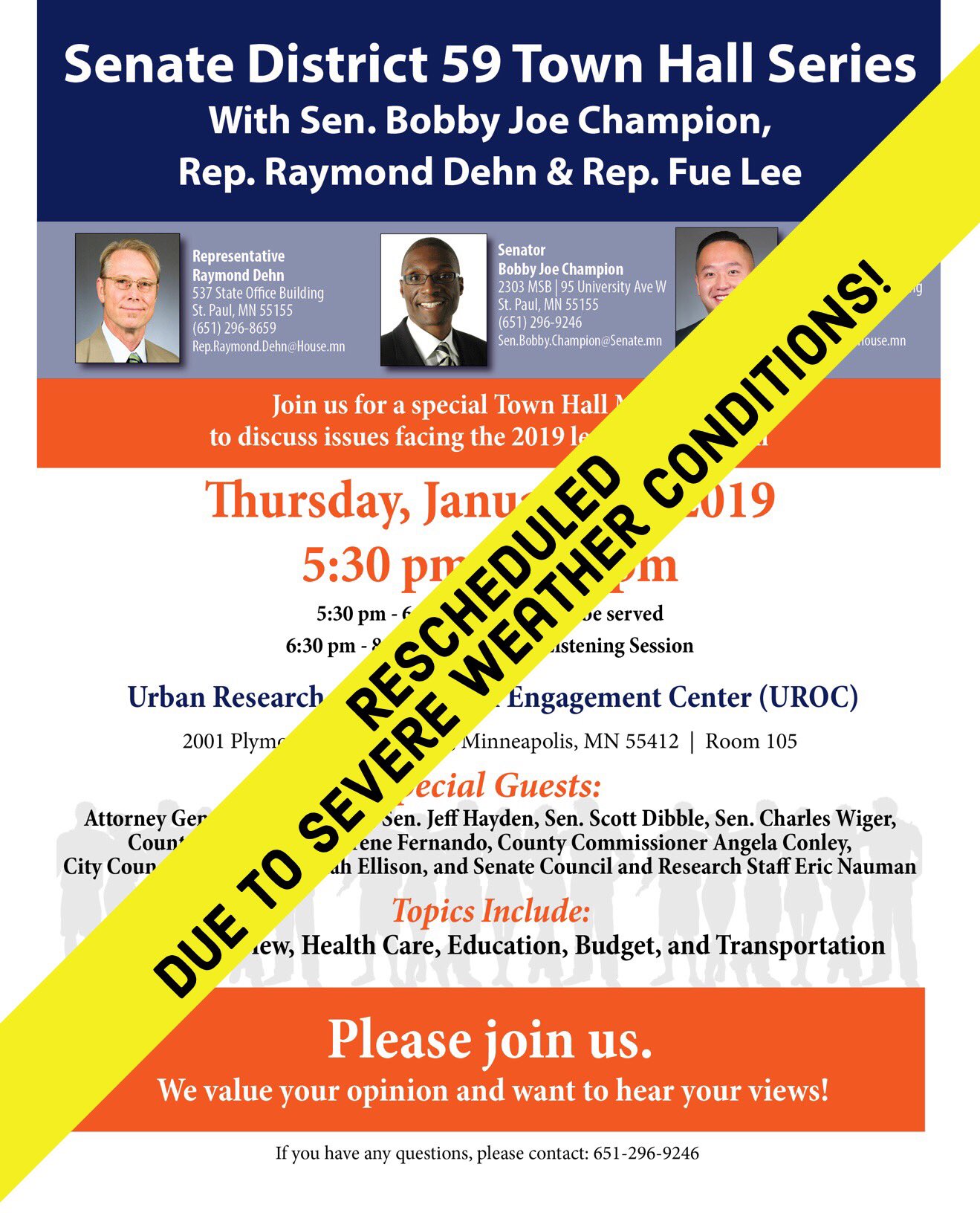 Legalized Recreational Cannabis
 
At the start of session this year I introduced HF 265, which would put the issue of legalizing recreational cannabis to a constitutional referendum. The bill would only need to pass with a simple majority in the House and Senate before being placed on the ballot for the 2020 election. Ten states and the District of Columbia have legalized recreational cannabis, and it's time for Minnesotans to decide if we want to join them.
 
Another bill, HF 420, would legalize recreational cannabis through the legislative process, without a constitutional referendum. I have also signed on as a co-author of this bill, with the point being that we need to start the conversation of legalizing cannabis in Minnesota. In our city, African-Americans are 11 times more likely to be arrested for cannabis possession, despite similar usage rates among other groups. This is in sharp contrast to a Minnesota that has become more accepting of recreational cannabis use.  
 
 
Restore the Vote
 
Another piece of legislation I'm proud to have authored is HF 40, a bill to restore the civil right to vote to felons once they are released from prison. This bipartisan legislation was narrowly defeated last year, but the hope is that with the new House Majority we can restore the vote to over 50,000 Minnesotans.
 
This isn't an urban or a rural issue, but one that impacts Minnesotans all over the state. The next stop for this legislation is the Subcommittee on Elections.
 
 
Stay In Touch!
 
Especially with tonight's Town Hall canceled, I want to hear from you. You can reach me at (651) 296-8659, or at rep.raymond.dehn@house.mn. My new office in St. Paul is Room 537 in the State Office Building. The work here at the legislature is a collaborative process, and I look forward to hearing from you.

Sincerely, 

Raymond Dehn