Dear Neighbors,
The Legislature must adjourn on Monday, May 21st, leaving us with less than two weeks to wrap up significantly large bills. I hope we don't see a repeat train wreck at the end of session as we have over the past couple of years. The Republican House and Senate majorities have both passed their supplemental budget bills, tax bills, and are in the process of releasing their public infrastructure bills. Conference committees will meet soon to reconcile differences within the Senate and House's bill versions. After passing the final bills once more after this process, the legislation goes to the Governor's desk for consideration.
The Governor has repeatedly urged Republicans to work with him on adequate school funding, finding solutions for the state's opioid crisis, protecting seniors from abuse, making our schools safer and ending senseless gun violence, shoring up state pensions, fixing public infrastructure, and protecting hard-working Minnesotans from tax increases. In fact, the Dayton Administration has sent Republican leaders 270 pages of input and concerns about legislation being considered without much of a response.
I'm hopeful Republicans will work to find common ground with the Governor. My priority will be to ensure that the needs and values of our community and state are met.
National Teacher Appreciation Week
As we recognize National Teacher Appreciation Week, we reflect on the positive impact our teachers have had on us. As lawmakers, we can #ThankATeacher, by providing educators with the funding needed for resources to do the very best for our kids. With so many schools facing budget deficits, we don't want to make their jobs harder by threatening layoffs, program cuts, and even larger class sizes. The Governor's Emergency Aid proposal is a solid solution for protecting our schools, teachers and students.  
Radon Testing in Schools
I spoke with KARE11 about school health concerns on Tuesday in response to a recent investigative story regarding the lack of radon testing in schools. The report shows Minneapolis public schools have not been tested for radon in more than 20 years. Governor Dayton also spoke with reporters and has stated he is willing to use executive action to address this urgent matter because our kids and teachers need to be safe in schools.  
My Minneapolis colleagues and I have also sponsored legislation to ensure our schools have adequate resources to keep children safe and healthy when it comes to lead testing in drinking water. Unfortunately the Republican-controlled Legislature has done nothing to defend the health of our children to protect them from lead, radon and other dangers in their school environment. I'll continue to work with the Governor to make headway on these dire issues.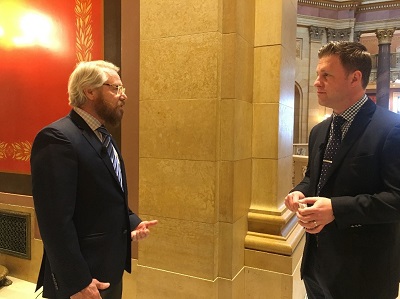 Anti-Protest Bill Advances
Although the Republicans included the anti-protest bill as a provision in their Omnibus Public Safety Bill, they brought it to the House Floor as a stand-alone bill. I spoke against the bill because it's about punishment, not public safety. We as lawmakers should be concerned about the underlying injustices which are causing underrepresented communities to protest in the first place. Poverty, disparities in education, an unbalanced criminal justice system, are just a few of the large multi-faceted issues that need to be addressed. Minnesotans are protesting because they want a fairer and just society, and are not fighting for an increase in penalties for those who want their voices heard.
Please don't hesitate contact me anytime on issues or bills important to you. It's an honor to represent you at the Capitol.
Sincerely,
Raymond Dehn