Dear Neighbors,
We're down to three weeks until adjournment and the large Republican budget bills are heading to the House Floor for final votes. The Majority has decided to bundle various topics together, some of which are unrelated, for mega omnibus bills. This approach is messy, chaotic and significantly halts thorough discussion and debate on the important issues facing Minnesotans. The DFL is working hard to offer amendments and fight against divisive and greedy legislation that only benefits corporations and the ultra-rich. Unsurprisingly, our amendments are usually not adopted by the Republicans.
House Education Bill
Yesterday, the House passed the E-12 and Higher Education bill without my support. There is no funding to continue voluntary pre-k funding for over 4,000 of our earliest learners in Minnesota including Minneapolis students and school districts who will likely be hit the hardest. It also woefully underfunds Minnesota universities and colleges, which will lead to higher tuition costs and student loan debt.
The worst part of the bill was the House Republicans' attempt to distract Minnesotans in regards to school safety by throwing money at schools for building renovations which are supposed to make our kids safer. What our students, teachers and staff really need is common sense gun safety laws in Minnesota. Common sense gun safety measures need to be a part of the school safety solution.
Sit-In
On Tuesday, I joined my colleague Rep. Erin Maye Quade who had launched a 24 hour sit-in on the House Floor to ask the Republican leadership for discussion on the gun safety legislation they've been suppressing all session. Speaker Daudt can't seem to make up his mind about whether or not he should listen to the 90 percent of Minnesotans asking for common sense proposals, such as criminal background checks. Feel free to share your thoughts with him here.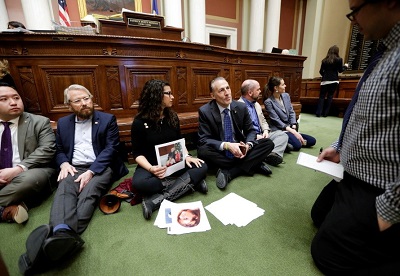 National Prescription Drug Take Back Day

Saturday, April 28 is National Prescription Drug Take Back Day. From 10 a.m. – 2 p.m., Minnesotans can drop off leftover opioids in approved drop boxes for proper disposal, no questions asked. This is the recommended method of disposal for opioids as it helps prevent crime, drug abuse, and accidental poisoning.

To find nearby locations, follow this link.
Please don't hesitate to contact me on any issue or bill that's important to you and your family. I appreciate your input and the opportunity to lift up your voice at the Capitol.
Sincerely,
Raymond Dehn