Doctors haven't made house calls since the middle of the last century, but nurses and other health care practitioners could do health checks at the homes of some Minnesota families expecting or caring for an infant.
If requested by a family, the program would provide in-home visits from doulas, community health workers, perinatal health educators, early childhood family education home visiting providers, and/or local public health nurses.
"I believe it's critical to provide all infants and their families access to resources early to connect them to the resources in their community that will help their family thrive," said Rep. Kelly Morrison (DFL-Deephaven).
She sponsors HF3886, which would fund the home visitation services through ongoing annual appropriations to the Department of Health beginning with $110 million in fiscal year 2023. The department would ensure services become available to all families statewide by June 30, 2025. Applicants serving high-risk or high-need populations would be prioritized.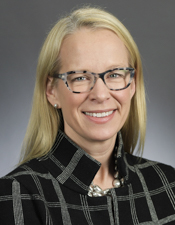 Rep. Kelly Morrison
The House Health Finance and Policy Committee laid the bill over, as amended, Wednesday for possible omnibus bill inclusion.
The bill would establish home visiting services providing one to six visits prenatally or within the first four months of the expected birth or adoption of an infant.
"Family home visiting is a proven strategy to improve pregnancy and birth outcomes, address maternal and infant health needs, support development of secure attachment with children, address breastfeeding and feeding questions and concerns, and connect families to the community resources to address the unique needs of each family," Morrison said.
The goal is that after one to six home visits, a family can transition to getting similar services at community-based clinics and agencies.
Cinthia Fondrk, a public health nurse with Ramsey County and member of the Minnesota Collation for Family Home Visiting, said many families she serves "face systemic inequities" and have a great need for these in-home health services.
"Some live in poverty, experience mental health challenges, experience housing and food instability, experience chemical addiction or come from the foster care system," she said, noting that all of these issues were exacerbated by the COVID-19 pandemic.
"We believe offering voluntary family home visits to every child born and adopted over the next few years here in Minnesota can help stabilize families as they work to rebuild from the pandemic," she said.
The committee also laid over HF3887, as amended, for possible omnibus bill inclusion. Also sponsored by Morrison, it's identical to the amended HF3886, but has a one-time $100 million appropriation.
Sen. Melissa Wiklund (DFL-Bloomington) and Sen. Julia Coleman (R-Chanhassen) sponsor the respective companion bills, SF3766 and SF4109. Both await action by the Senate Health and Human Services Finance and Policy Committee.