Skin-lightening creams can contain dangerous ingredients, including mercury and other toxic substances that can lead to long-term health problems.
But they're common in Minnesota's minority communities, especially amongst East African and Asian women, as well Latinas, testifiers told the House Health and Human Services Finance Division Friday.
"It's a huge public health issue. It needs to be established as a public health issue," said Amira Adawe, director of the Beautywell Project.
HF1898, sponsored by Rep. Hodan Hassan (DFL-Mpls), would attempt to do this by appropriating funds to the Department of Health for a grant program focused on public awareness and education.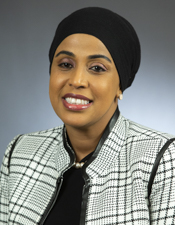 Rep. Hodan Hassan
The division laid it over for possible omnibus bill inclusion.
A companion, SF1920, is sponsored by Sen. Sandra Pappas (DFL-St. Paul) and awaits action by the Senate Health and Human Services Finance and Policy Committee.
Mercury can impact the nervous system, damage kidneys, and cause pain, rashes, skin discoloration, and scarring. But, despite FDA regulations, the dangerous metal can be found in imported products, which seldom list the ingredient on labels and are available in stores or online, Adawe said.
Children are especially vulnerable, and can be exposed to mercury while their mothers are pregnant, breast-feeding, or through the environment, said Katherine Raleigh, an epidemiologist at the Department of Health.
When the department's Minnesota Family Environmental Exposure Tracking program identified women with "very high" levels of mercury in their systems, skin-lightening products were found to be the main cause, she said.
In one home, simply opening a jar of skin-lightening cream maxed out the monitor being used to test mercury levels. It was stored in a bedroom where children slept, Raleigh said.
"These products were putting mercury into the air that the whole family was breathing," she said.
The practice is "so embedded in the culture," and education about the issue is so sparse, it will take a lot of work to make a difference, Adawe said.
Programming would include information about the dangers of mercury exposure, the signs and symptoms of mercury poisoning, how to identify products containing mercury, and proper disposal procedures.
A fiscal note was unavailable Friday, but proponents are requesting $500,000 in fiscal years 2020 and 2021.
Division chair Rep. Tina Liebling (DFL-Rochester) asked if the work could potentially begin at a lower funding level.
"Anything would be helpful," Adawe said. "We just want to address this issue."